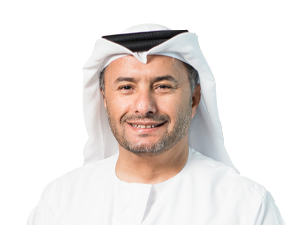 Khadim Abdulla Aldarei

Managing Director
Khadim Abdulla Aldarei is the Managing Director of Al Ain Holding, and the Vice Chairman & Co. Founder of Al Dahra Holding. In his role as Managing Director of Al Ain Holding, Khadim has overall responsibility for ensuring the business strategy is aligned with the shareholder and the board target.
Khadim has over 28 years of public and private sector experience and has held senior positions within the UAE's diplomatic core, as well as managing the public and private offices of senior members of the UAE Government and Royal Family.
He began his career working in the UAE Ministry of Foreign Affairs, with postings to the UAE Embassies in Washington DC, USA and Beirut, Lebanon, where he held the post of First Secretary. Khadim was then appointed Plenipotentiary Minister First Class at the Ministry of Foreign Affairs. In addition to these duties he was made Deputy General Manager to the Court of His Highness Sheikh Hamdan Bin Zayed Al Nahyan, the then Deputy Prime Minister and Minister for Foreign Affairs.
After leaving the Ministry of Foreign Affairs, he was appointed Chief Executive Officer of the Private Office of His Highness Sheikh Hamdan Bin Zayed Al Nahyan. In this role, he was responsible for the coordination of all private and business interests and activities of His Highness.
Khadim has a number of external Chairmanships, these include; The Sheikh Zayed Private Academies for Girls and for Boys, Agility Abu Dhabi PJSC, Agricost SA (Romania). He is also Vice Chairman of Capital Group Properties (Egypt) and Chairman of the Audit Committee of International Capital Trading.
Externally, he sits on the boards of a number of public and private entities. These include the National Investment Corporation, Abu Dhabi University, Tristar Transports LLC and the UAE Red Crescent.
Khadim holds a Bachelors Degree in Human Resources Development form the American University in Washington DC, USA and a MBA in International Relations from the American University of Beirut, Lebanon. He has also attended several executive management programs at top institutions such as the Harvard Business School in Boston, USA.