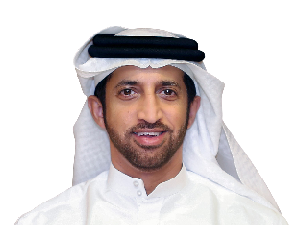 Sultan Khalfan Sultan Alktebi

Vice Chairman
Sultan Khalfan Sultan Alktebi is the Vice Chairman of Al Ain Holding. He works with the Board to develop and implement the strategic corporate framework across all of Al Ain Holding's businesses. He is also a Special Advisor to His Highness Sheikh Hamdan Bin Zayed Al Nahyan, the Ruler's Representative in the Al Dhafra Region, Abu Dhabi.
Sultan has over 25 years of experience in the public and private sectors. He started his professional career in the Private Office of His Highness Sheikh Abdullah Bin Zayed Al Nahyan, UAE Minister for Foreign Affairs, where he held the position of General Manager, having overall responsibility for coordinating all duties and activities of His Highness.
Other senior positions include the General Manager of the Office of the Minister of Media and Culture, as well as the General Director of Abu Dhabi Radio and Television Corporation and the General Director of Emirates Media Establishment.
Sultan holds external Chairmanships and Board positions within a number of public and private sector organizations.
Sultan holds a Bachelors Degree in General Administration from the UAE University.