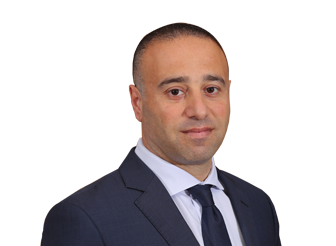 Iyad A Nassralah

Head of Property Department
Iyad Al Nassralah is the Head of Property Department, responsible for the management of the daily operation of leasing, facilities management and customer service of the properties within UAE and abroad. He also contributes to the business growth by recommending and executing tactical operational initiatives.
Iyad has over 22 years of experience in real estate sector and hotel management. During his 15 years of experience with Al Ain Holding, Iyad has gained wide knowledge in real-estate industry which helped in stabilizing the portfolio and growth of business.
Iyad has previously worked with Rotana Hotel Management and Sheraton Hotels & Resorts.
Iyad holds Master's degree in Business Administration from Torrens University Australia and a Bachelor's Degree from the Hotel and Tourism Center in Damascus, besides number of trainings on Quality Control, Managing People and Strategic Thinking.